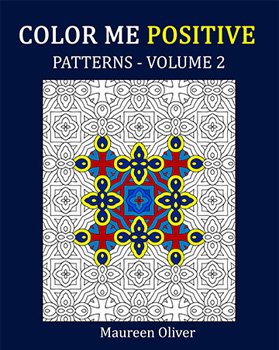 Publisher:

Createspace

Available in:

Paperback
Buy on Amazon
This book is your gateway to coloring yourself into a positive mind-set.
Coloring these 25 original patterns will allow your mind to transport you back to a simpler time when nothing else mattered but this moment. When putting crayon to paper made you feel creative and artistic.
Once you begin coloring this mix of simple and intricate patterns, you'll begin to feel your mind letting go of the tensions of mondern-day living. Each pattern is printed on a single side of the page. Included are two color test pages so you can check out your colors before committing them to the design. Cut out the blank pages included to place behind the design you're coloring to prevent bleed through when using gel pens or markers.
Check out the video below for a preview of the patterns!